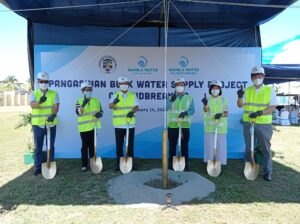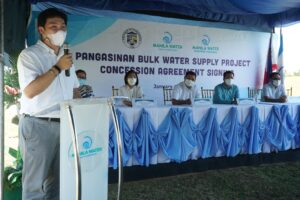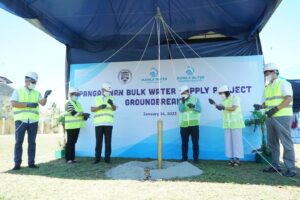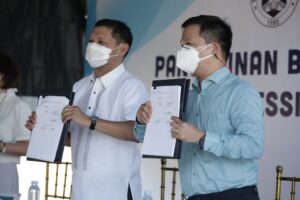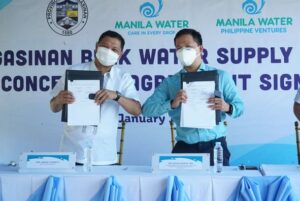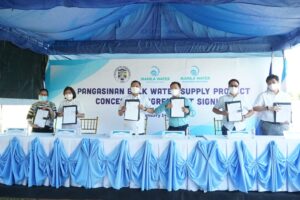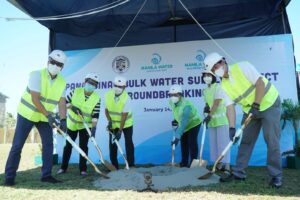 Governor Amado "Pogi" I. Espino III signed an P8-billion concession agreement today (January 14) at the Capitol Resort Hotel with the consortium of Manila Water Company, Inc. and Manila Water Philippine Venture, Inc. to "assure sufficient, sustainable and quality potable water supply in the province."
The concession agreement signing was led by Gov. Espino, Manila Water Chief Operation Officer for Non-East Zone & International Businesses Melvin John M. Tan, Manila Water Philippine Ventures – North Luzon Regional General Manager Christian Mhel Marcos, Manila Water Philippine Ventures Subsidiary Operations Group Director Maidy Lynne B. Quinto, Provincial Administrator Nimrod S. Camba, and Provincial Legal Officer Geraldine U. Baniqued.
Under a 25-year Public-Private Partnership (PPP) framework, the project aims to develop a "Bulk Water Supply" system in Pangasinan that shall provide approximately 200 million liters of potable water per day.
The Pangasinan Bulk Water Supply project, initially planned during the administration of former Governor Amado T. Espino, Jr., underwent assessment and subsequent approval from the PPP Center of the National Economic and Development Authority (NEDA).
The project will be using raw water source from the Agno River. Thus, this will reduce reliance of ground water resources which are now depleting, and minimize the cost of power for pumping.
Likewise, the project will provide socio-economic benefits to the locality, as well as to the province.
The concession agreement was followed by a ceremonial groundbreaking ceremony which highlighted the lowering of the time capsule that contains the plan for the River Bank Filtration System.
Also present to witness the meaningful activity were Sangguniang Panlalawigan Majority Floor Leader Nestor "Nikiboy" Reyes, 3rd District Board Member Angel M. Baniqued Jr., departments heads and other selection committee members of the said project.