Roads
A gateway to the North, Pangasinan is accessible through the following major thoroughfare: 1) Manila North Road; a north to south backbone that extends from Carmen, Rosales up to the Municipality of Sison; 2) the Romulo Highway via Tarlac (Pangasinan-Tarlac Road); 3) the Pangasinan-Zambales Road (Olongapo-Alaminos-Bugallon road) connecting the province of Zambales in Region III; 4) Pangasinan-Nueva Ecija Road (Rosales-Umingan Road) which links Pangasinan to Nueva Ecija; 5) Pangasinan-Nueva Vizcaya Road (links the province to Region II via Villa Verde Trail going to Sta. Fe Nueva Vizcaya); 6) Pangasinan-La Union Road, linking Pangasinan to province of La Union; and 7) Tarlac-Pangasinan-La Union Expressway (TPLEx);  8) San Nicolas-Natividad-San Quintin-Umingan-Guimba Road and 9) San Nicolas-Natividad-San Quintin-Umingan-Guimba Road 2 linking the province to Nueva Ecija in Region III; and 10) Camiling-Wawa Bayambang-Malasiqui, Sta. Barbara Road also linking Pangasinan to Tarlac.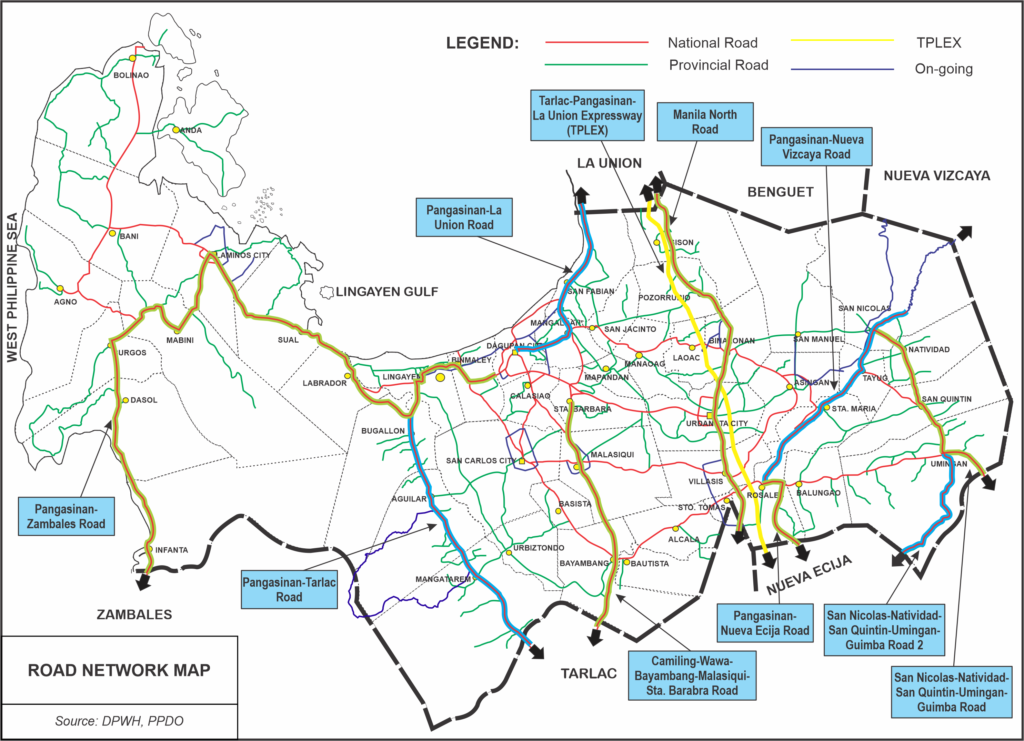 The total road length of the province for the year 2021 is 8,460.7653 kms.  National Road recorded 633.716 kilometers representing 7.49% of the total road length of Pangasinan, Provincial Road with 727.7270 kilometers or 8.60%, Municipal Road with 687.8139 kilometers or 8.13%, and Barangay Roads which has the longest with 6,411.5084 kilometers or 75.78% share of the total provincial road length.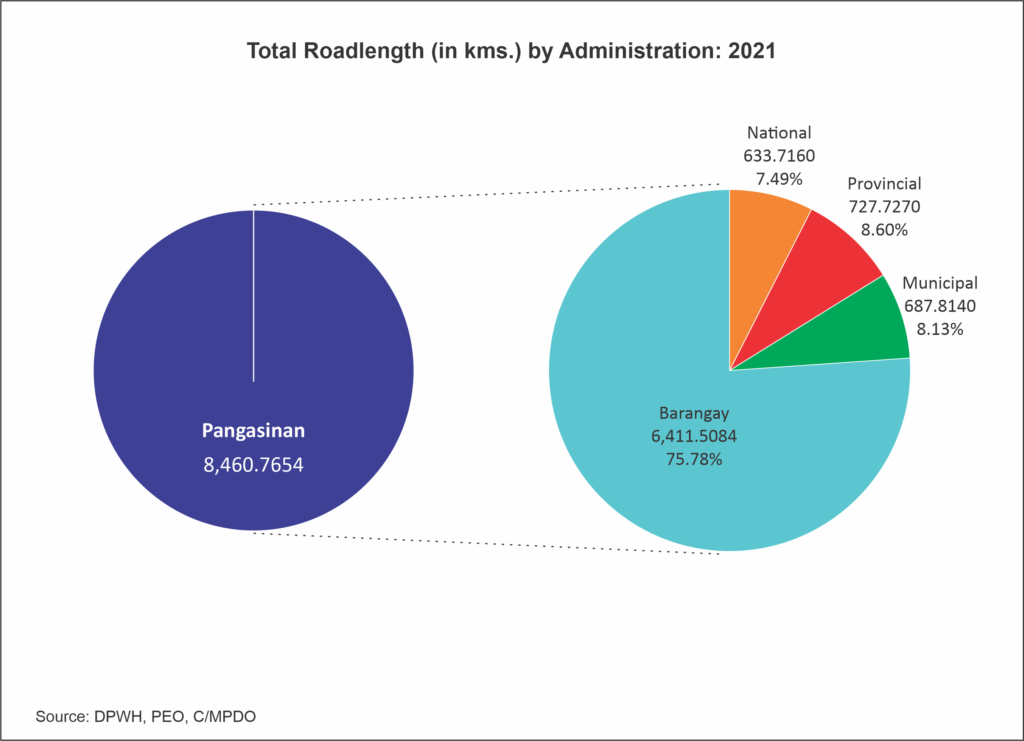 In terms of road density, Pangasinan has a road density of 1.55 km/sq.km of its total land area and 2.64 km/1,000 population (2021 projected), which is  still adequate compared to the standards of 1.0 km/sq. km. and 1km/1,000 population.
Bridges
The province's total length of bridges is 38,520.78 linear meters. National Bridges recorded the longest (by Administration) with a total of 14,264.27 linear meters, which is about 37.03% of the total province's bridge length. Provincial Bridges has 5,936.50 linear meters or about 15.41%, Municipal Bridges with 3,617.52 linear meters or 9.39%, and Barangay Bridges with 14,702.49 linear meters or 38.17%.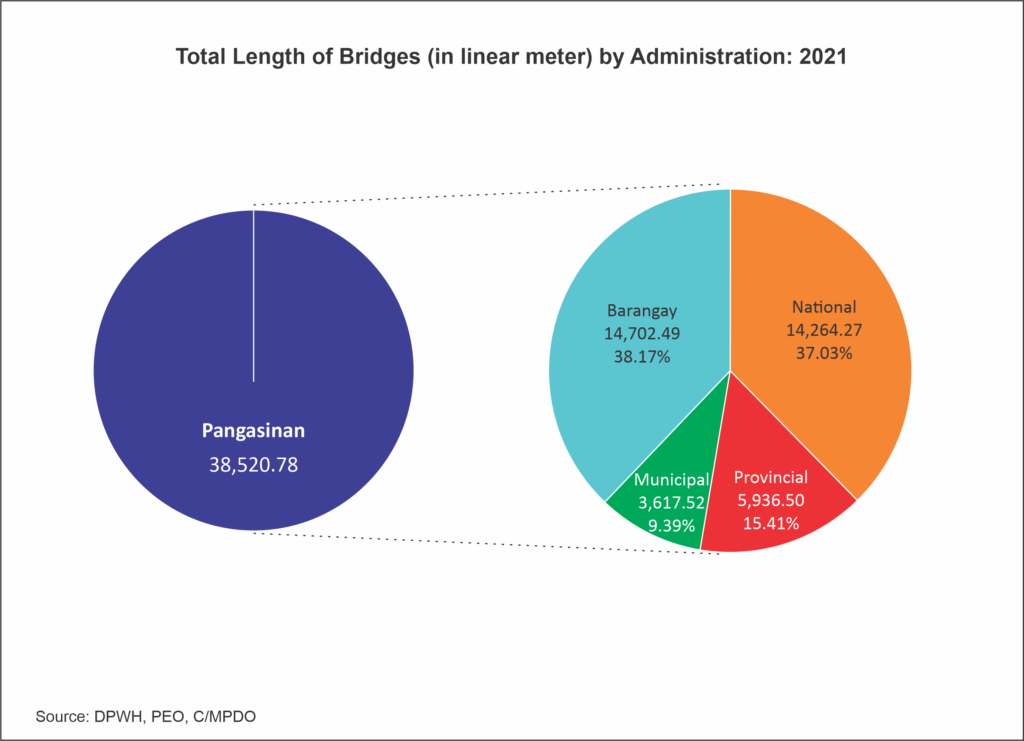 There are 203 national bridges interlinking other cities/municipalities within the province, from which, District 6 has recorded the greatest number of bridges constructed with 51 national bridges. On the other hand, there are 209 provincial bridges constructed under the implementation of the provincial government of Pangasinan. Across districts, still District 6 remains the highest number of bridges constructed with 85.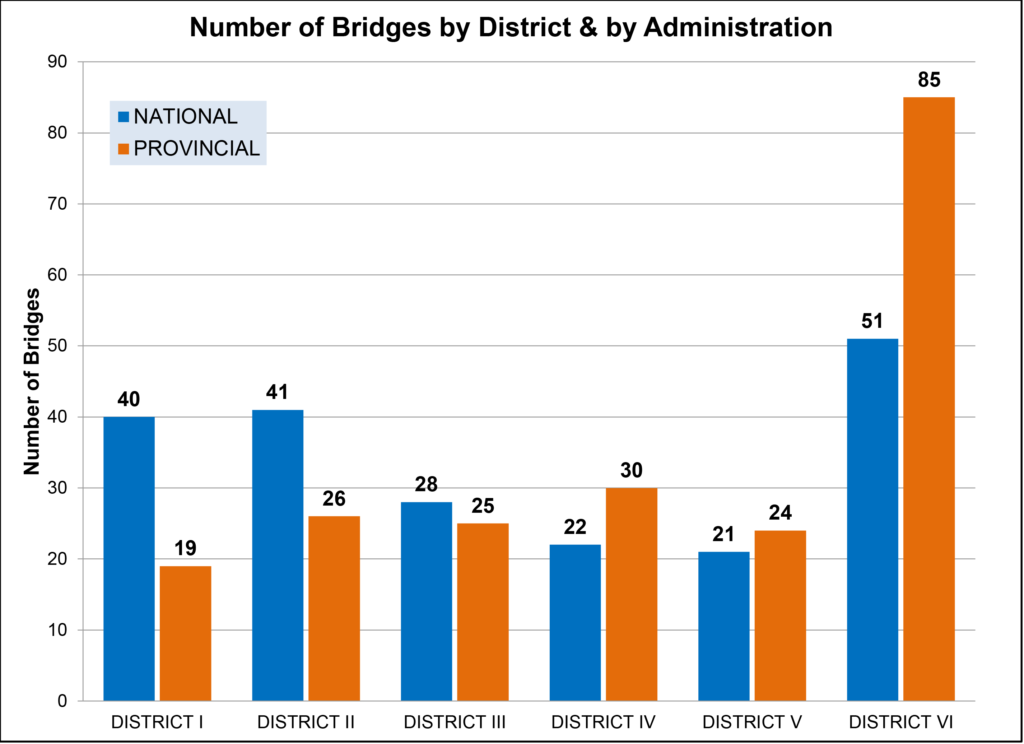 Under the National Bridges, the Narciso Ramos Bridge in Asingan, recorded the longest with 1,448.00 linear meters. Provincial bridges on the other hand, the Amboyaoan Bridges in San Nicolas recorded the longest with 480.00 linear meters.
District VI has the longest bridge length with 9,983.34 linear meters or 25.92% of the total province's bridge length, while District III has the least with 4,323.84 linear meters or about 11.22%.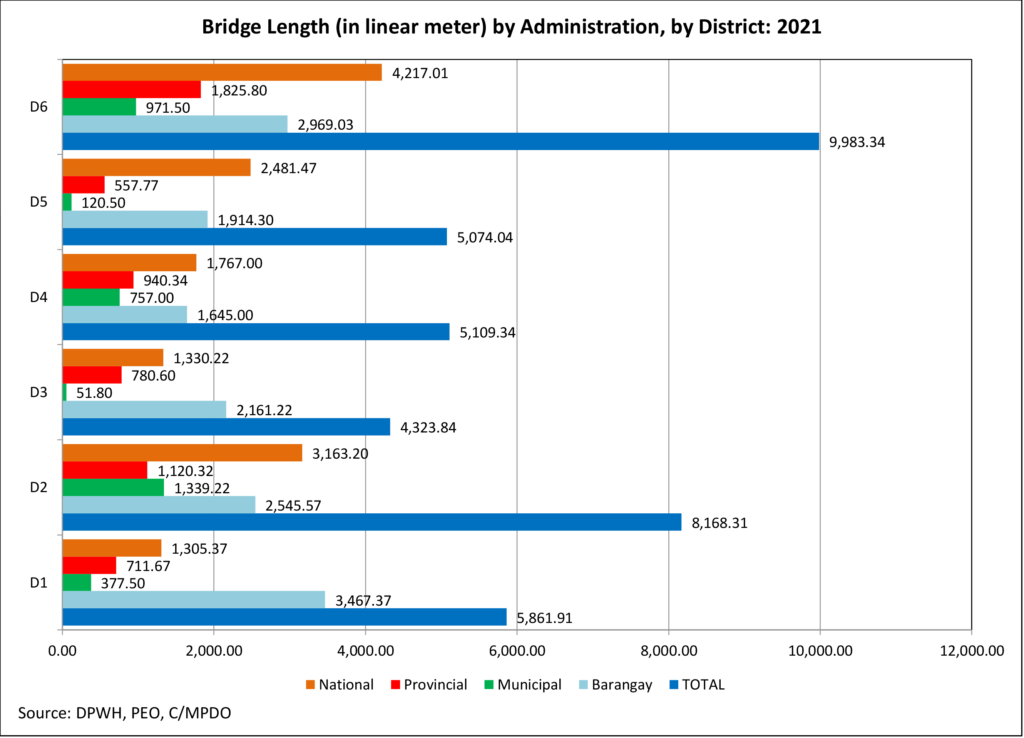 All national and provincial bridges are already made of permanent structures. Municipal and Barangay Bridges with permanent structures are recorded at 13,748.53 linear meters or about 75.05% of the total Municipal and Barangay bridge length, while the remaining 4,571.48 linear meters or 24.95% are still made up of temporary structures.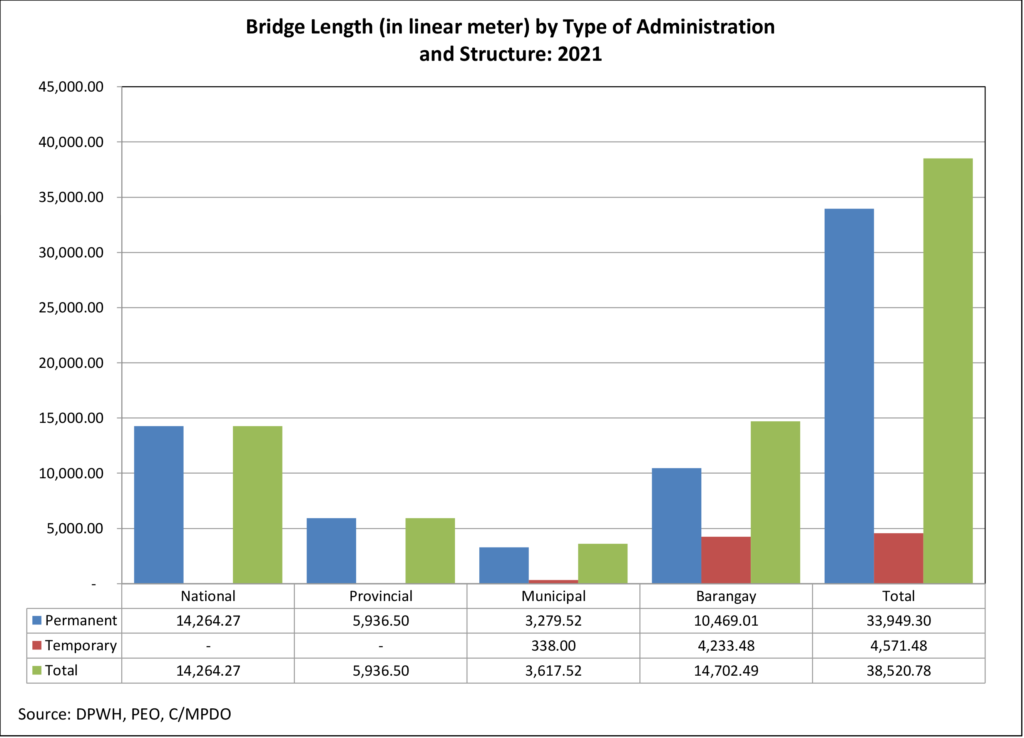 Irrigation System
For the year 2021, the irrigation coverage of the province was placed at 60% representing 111,429 hectares irrigated from the potential irrigable area of 185,757 hectares.
Domestic Water Supply
Potable water supply is being served by the 48 water districts/waterworks associations and privately-owned water associations located in different parts of the province categorized into residential, commercial and industrial. Residential had the highest connections with 249,195, an increase of 6.30% or 14,771 connections over the previous year's figure of 234,424. Meanwhile, commercial and industrial/government had 14,063 and 2,138 connections, respectively.
Among the water service provider, Dagupan City Water District exhibited the highest residential connections with 25,447 consumers, followed by Alaminos City with 16,399 connections and Mangaldan with 13,885. In terms of water consumption for all types of client, Dagupan City Water District likewise registered the highest with a total of 7,098,711 cubic meters, followed by Alaminos City Water District with 4,646,509 cubic meters and Mangaldan Water District with 3,896,837 cubic meters.
Of the forty-eight (48) cities/municipalities of the province, five (5) municipalities (Aguilar, Labrador, Sison, Natividad and Bautista) have no existing water district or waterworks system within their municipality.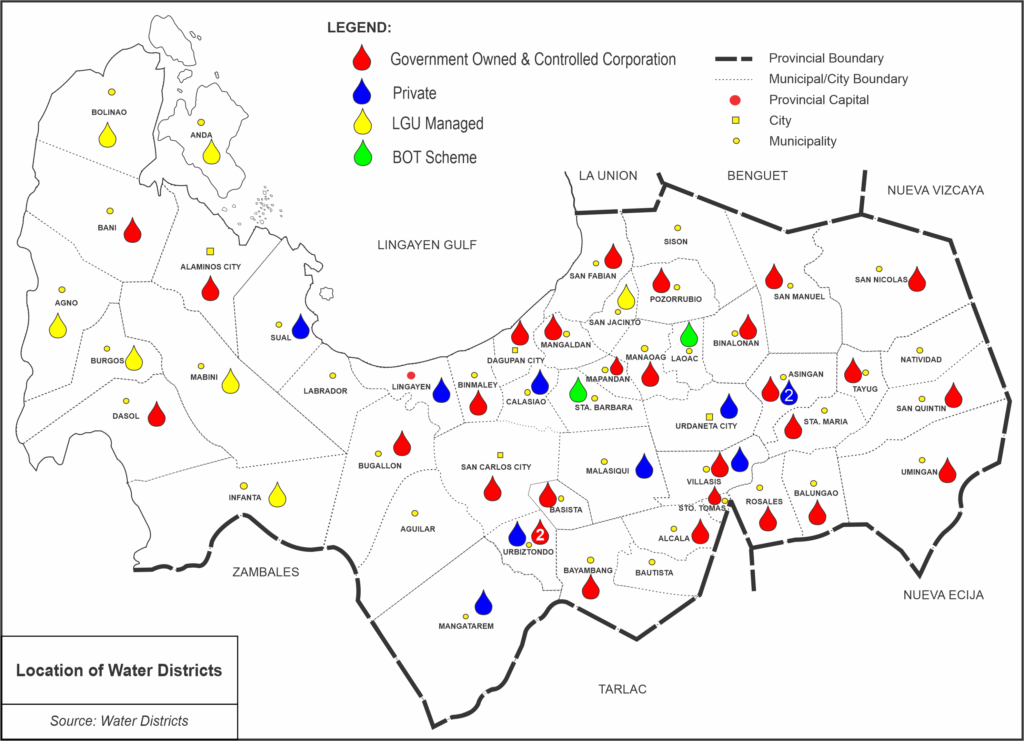 Electric Power Supply
One hundred percent (100%) of the barangays in Pangasinan have been energized. However, out of 776,202 potential household connections, some 712,413 or about 92% have been energized.
The province has 2 power generation plants, the Sual Coal-Fired Power Plant and the San Roque Hydro Power Plant located in the municipalities of Sual and San Manuel, respectively. These power plants have a combined generating capacity of 1,653 MW and have several transmission lines carrying high voltage of 69 KV, 230 KV and 500 KV.
There are five (5) electric cooperatives providing electrical services in the province, namely: Pangasinan Electric Coops I and III (PANELCO I & III), Central Pangasinan Electric Coop (CENPELCO), Dagupan Electric Corporation (DECorp), and the La Union Electric Coop (LUELCO). The latter provides electrical services to some barangays of San Jacinto, San Fabian and Sison. The cost per kilowatt hour of the different Electric Cooperatives varies by type of consumers. For residential, LUELCO has the highest rate/kwh with P10.49 followed by PANELCO III with Php 10.07.
As to consumption, household connections posted the highest consumption at 916,351,320 kwh, with an average consumption of 1,481 kwh per household. On the other hand, Street Light end users have the least number of connections registering a total consumption of 6,954,837 kwh.
Transport Facilities
A total of 314,332 motor vehicles were registered in CY 2021, which had increased by 7.81% or 22,775 vehicles compared to last year's figure of 291,557 registered motor vehicles. By vehicle classification, private vehicles recorded the highest number of registration with 272,927 vehicles or about 86.8% of the total registered vehicles, followed by vehicles "for hire" with 39,900 vehicles or 12.69%, and government vehicles with only 1,505 vehicles or 0.48%.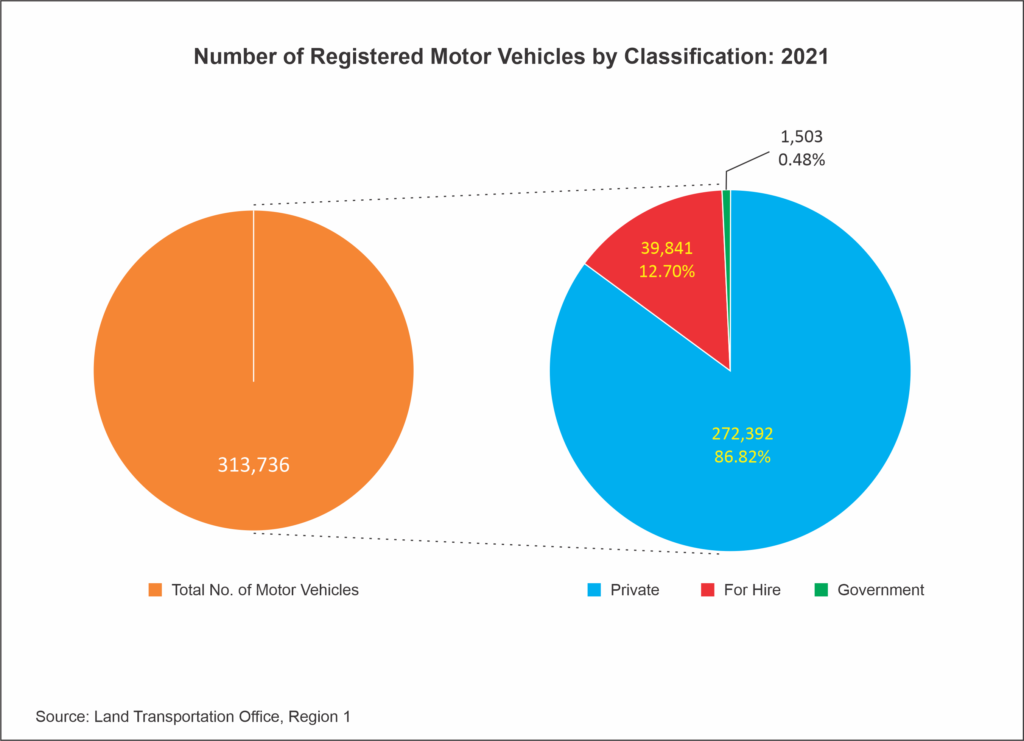 For the various types of motor vehicles, motorcycle/tricycle always posted the highest number of registration with this year's 208,901 or almost 66.4% of the total number vehicles registered. This is followed by the utility vehicles with 51,960 or 16.5%, cars with 27,219 or 8.7%, sports utility vehicles with 16,647 or 5.29%, trucks with 8,877 or 2.82%, and trailers with 596 or 0.19%. Posted with the least registration are buses with only 132 or 0.042% of the total registered vehicles.
Out of the total registered motor vehicles, 248,366 or 79.01% are using gasoline, while 65,370 or 20.8% use diesel. Compared to last year's data of 231,114 and 59,860 vehicles using gasoline and diesel, respectively, an increase of 7.46 % and 9.20% respectively, was noted.
Communication Facilities
In 2020, the postal services are being provided by the 50 post offices giving more than 100% coverage for the province. For the year under review, one (1) post office served 62,744 individuals. For the same period, there are 107 letter carriers in the province, serving 29,319 persons per letter carrier. The ratios of both the post office and the letter carrier to population are below the standard ratio of 1:6000 and 1:5000, respectively.
Print media and local news are mediums of information. In the province there are 19 print local publications being circulated. Also, there are 19 existing cable stations and 19 broadcast/radio stations that are currently in operation.
The province is fully served with telephone services provided by PLDT making it at 100% coverage. A total of 213,048 had been installed province wide, making a telephone density of 6.6 for every 100 persons for the year under review.
In terms of electronic services, the province has nine (9) Internet Service Provider (ISP) facilities mostly located in the cities of Dagupan and San Carlos. In addition, numerous Internet Cafés installed provincewide are likewise providing internet services to the public.
Solid Waste Disposal
In disposing of solid wastes, there were six (6) LGUs using open dumpsite and four (4) use Sanitary Landfill Facility, namely: Bolinao, Calasiao, Alaminos City, and Sta. Maria. The Municipality of Sto.Tomas is the only LGU that has no dumpsite, but has MRF in all its barangays.
From the total number of barangays in the province (1,364), only 721 or 52.86% have Material Recovery Facilities (MRF), which is far behind the standard of 1 MRF for every barangay. In addition, thirty-four (34) Central MRF are established in some local government units in the province, which are funded by the National Solid Waste Management Commission (NSWMC), while 21 are LGU-initiated. On the other hand, there are 16 LGUs who are 100% compliant in the establishment of MRF in every barangay. These are the municipalities of Agno, Bolinao, Mabini, Sual, Bugallon, Pozorrubio, Villasis, Asingan, Sto.Tomas, Natividad, Rosales, San Quintin, Bautista, San Nicolas, Umingan and city of Urdaneta.
Slaughterhouse
Among the forty-eight (48) cities/municipalities of the province, forty-one (41) have existing slaughterhouse, which shows that seven (7) or 15% of the total number of local government units have no slaughterhouse.
Public Market
All the municipalities and cities of Pangasinan have their own public markets.
In addition, there are three (3) livestock markets that are located in Alaminos City, Urdaneta City and Calasiao and three (3) carabao/cattle markets in San Carlos City, Urdaneta City and San Jacinto.
Ports
Based from the Philippine Ports Authority (PPA) 2020 data, the province has six (6) registered ports, of which, five (5) are temporary/non-commercial ports, which handle their own cargoes/products, and the Sual Government Port that handles commercial cargoes, but can only accommodate small vessels at present.
Shipcalls is the number of vessels which call or arrive at a particular port at any given time. In the province, there were 246 domestic and foreign shipcalls that were recorded at the various ports and anchorages. More than half of which, or 158 vessels were reported to have called/arrived at the Team Sual Corporation, 33 at Pryce Gas Inc. and 29 at the Sual Government Port.
The total volume of cargo discharged and loaded is 2,782,549 metric tons in 2020. Bulk of which is from Team Sual Corporation with 2,531,475 metric tons, while the rest are from the Pryce Gases, Inc., Macroserve Mining, Inc., and Sual Government Port.